Best Above Ground Pools 2021: Reviews
Thinking of adding a pool to your backyard, but don't want the expense and hassle of installing an inground one? If so, one of these best above ground pools might be exactly what you need!
There are a few things you'll need to consider when picking out an above ground pool. If you're already familiar with pools and are ready for the reviews, keep reading here… but if you're wanting some help determining what's important in selecting just the right pool for you and your family,
Intex Oval Frame Pool Set
Company: Intex
Rating: 4.6 / 5 stars
Price: $$$
Size: 20′ L x 12′ W x 48″ H
Steel Pro Frame Pool Set
Company: Bestway
Rating: 4.5 / 5 stars
Price: $
Size: 12′ diameter, 30″ high
Bestway Deluxe Splash Frame Kids Swimming Pool
Company: Bestway
Rating: 4.5 / 5 stars
Price: $
Size: 118″ L x 79″ W x 26″ Deep
Splash Pools Above Ground Round Pool Package – Permanent Pool
Company: Splash Pools
Rating: 4.2 / 5 stars
Price: $$$$$
Size: 24′ diameter x 52″ deep
Intex Easy Set Pool Set
Company: Intex
Rating: 4.0 / 5 stars
Price: $
Size: 15′ diameter x 48″ deep
How To Select An Above Ground Pool – Buying Guide
Shape & Size
Above ground pools come in different shapes, the most popular 3 by far being Round, Rectangular, and Oval. Round ones take up the most space, but are often the easiest to assemble (and are popular with kids who like to make whirlpools). Rectangular and Oval pools are great for long/narrow yards (and for those who love a good game of volleyball)!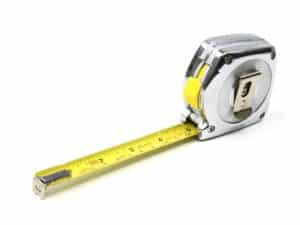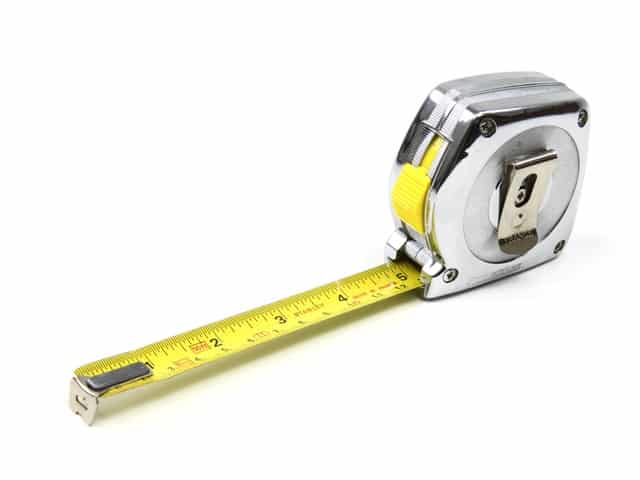 In each of these shape categories you'll find pools of different sizes from small to large.  Each one will be "the perfect size" for someone's yard, but you'll need to do some homework to figure out what'll fit best in YOUR backyard. We recommend physically going outside and measuring off the area you plan to use for your pool to see how it'll look.  Don't forget to add on at LEAST an extra foot in each direction for the frame (if a metal frame pool) – the measurements for each pool are based on the edge, not the exterior of the frame.
The pools we feature here are a range of sizes and shapes.  See our Overview Chart for size specifics to save you browsing time.  Note however, that if you click through on a pool that you like the look of (the "Take A Closer Look" button), you will sometimes find that the pool is available in a few different sizes.
Frame & Liner
What sort of frame do you want? There are lots of different frame materials and frame styles, even among the best above ground pools for this year.  The price range you have will determine your options for frames, and your frame will determine the longevity of your pool.
And, to put it plainly, the BEST frames are by far the most expensive (isn't that always the case??)  See #7 Below – the Splash Pools Above Ground 24′ Round, for example… the frame is built from metal plates and it has a separate liner – it comes with a 35 year warranty (!!!). The Easy Set pools by Intex (#1, #10) are also rated highly, but reviewers find they last only 3 – 5 years (thankfully the price tag is MUCH easier to swallow).
The best above ground pools here (other than #7) are a combination of Easy Set and Metal Frames.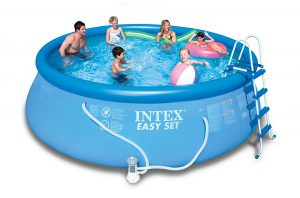 Easy Set / Inflatable Pools use a large inflatable ring on the top of the pool liner (which also serves as the pool wall). When you fill the pool, the pressure of the water forces the walls to rise, and once it's partially up, you add rustproof metal support frames to the sides propping it up securely.  Prosinclude that the pools are cheaper, easier to set up, and have no sharp or hard edges. Cons include that the inflatable ring does have a bit of a reputation for deflating… and for being hard to keep clean.  (See "How To Patch An Inflatable Pool" for tips on preventing inflatable pools from leaks, and read how to patch them.)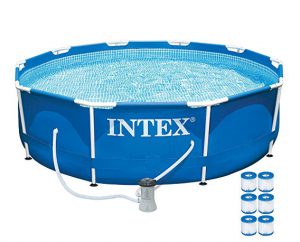 Metal Frames (which include Ultra Frames, Prism Frames, Steel Frames) have a metal frame that supports a heavy-duty PVC liner. Each pool brand has it's own style/design for the frames, but the general idea is that the frame components hold up the liner/pool wall all around the pool (some also braced by a thick band).  Pros include that these frames last longer than Easy Set, they maintain their shape better, and they have walls that do stand vertically. Cons are that occasionally you can have rust issues (usually if you damage/scratch something during assembly… otherwise there isn't much exposed metal (it's covered in tubing), and assembly can be rather tricky.
Pump & Filtration
If you want to have clean water to swim in, you'll need to have a pump and filtration system. There are 3 main types of filters: Sand Filters, Cartridge Filters, and Diatomaceous Earth (D.E.) Filters. All of our Top 10 use either Sand or Cartridge Filters, so we'll focus on these.
Sand Filters: The basic idea here is that the water is pushed through the sand, and the sand collects the debris. Once there is a fair bit of debris collected, the water pressure from the filter slows down and you know you need to clean it. Normally, with a sand filtration system, you'll need to flush it and replace the sand every few weeks. Its not a difficult or expensive task, but can be time consuming.
Cartridge Filters: Cartridge filters work similarly to the sand filters in that water is pumped through the filters, and the filters collect the debris. As the filters get dirty, the pressure inside the cartridge tank rises, and eventually it'll hit the indicator mark that they need to be cleaned or replaced. (See How To Clean A Pool Filter). Cartridge filters are not cheap if you get good ones, but they do last a lot longer between cleanings than sand filters – many people only need to do maintenance on them once or twice a season. Cartridge filter systems in general are newer than Sand Filters… and are made to collect even smaller particles in the water. This is appealing to many people who simply want the cleanest water they can get.
Salt Vs Chlorine for Sanitization
You'll also have to decide how you want to sanitize your pool water. The pump system will do a good job, but you will still need to either add chlorine (chemical tablets that release slowly, you put them in a feeder or floater), or salt (no, not the kind that leaves a residue on your skin, but pool salt that's proven to be easy on your skin, eyes, and clothes… and on the metal in the pool). Salt chlorine generators actually turn the salt to a sort of "free" chlorine, which cleanses the pool and then converts back into salt. Many people say that once you try salt, you won't want to go back to chlorine.
Assembly
The most crucial part of the installation of ANY above ground pool is to have your ground area be level as flat as you can possibly get it. Uneven ground, hills or holes must be leveled "perfectly" before pool assembly even begins. And truly, this may be your biggest challenge to getting your backyard pool the way you want it.
A perfectly level pool means that the water pressure will be distributed evenly all the way around the pool – making it stand properly and securely. If you don't get it level, the extra water pressure from the excess on the one side may cause a side of the pool to collapse.
You also want the ground beneath the pool to be smooth. Most of the pools recommended here come with a ground cloth that protects from anything sharp in the ground penetrating the pool liner. A smooth base also means it'll be comfortable for your feet and knees – you don't want lumps and bumps under your pool! Some people purchase "Gorilla Mats" (thick pads) for under their pools, some pour loads of sand, some lay indoor/outdoor rugs underneath. Bottom line, you want it to be smooth, flat, and relatively soft.